I
have been loving the blogs more than ever recently. I love seeing people's homes transform into winter wonderlands and more than that,  hearing about the things they do as a family that make Christmas time that more special.
Our tradition involves a five star hotel, a to die for breakfast, free cider and cookies listening to one of the top vocal groups in Dallas.
It's
Caroling at the Adolphus
. I love the
Adolphus
--it's where Mike and I had our wedding reception, where we like to eat for our anniversary (and if you are in Dallas you must eat here--it's the
French Room
--one of the top restaurants in Dallas) and the hotel is just plain beautiful.
We always get to the event early. And we always have breakfast in their not-as-fancy-as-the-French-Room
bistro
. I love it because it is not very crowded and the kids can eat in semi-fancy restaurant without me having to worry about them acting out. Oh and they love the food too.
Huevos rancheros anyone? (You do know she's from Texas right.)
After breakfast, we join an ever growing crowd in what is possibly the most beautiful hotel lobby ever, for some fantastic free entertainment. Today it's the
Turtle Creek Chorale
. This is one of Dallas' very famous chorale groups and if you can get your hands on one of their CDs do so--they are extremely talented. We have almost all of their Christmas CDs--they have giveaways during radio commercial breaks (
it's live on the WRR
) and we have won some. Miley won one today too! 
We love to sit on the big fluffy couches.
Oh and did I mention they serve free hot cider and home made cookies?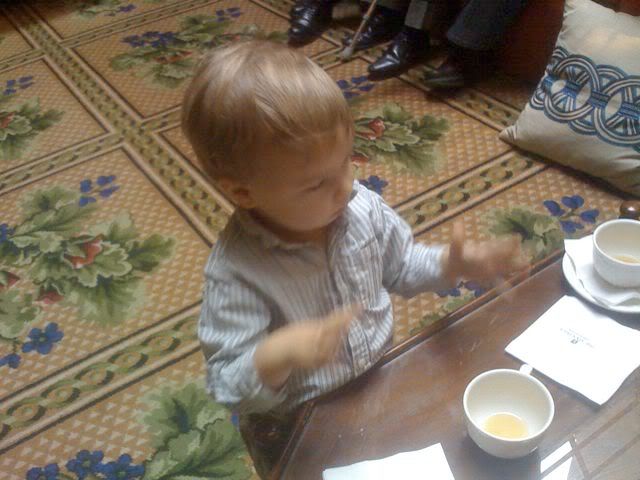 Yep.
And then there is the tree. I wish I had my real camera with me to show you this thing. It had some of the neatest ornaments, even a stuffed animal in the big branches and a ball bigger than a basketball. Hope this way too blurry pic can show you a little of how awesome that tree was.
And that is our tradition. If you are in Dallas, I highly suggest you reserve a day this week to check it out :)