I
tend not to obsess about material things. There are a few times I have seen items I really liked only to have them sold out before I bought them.
This happens all the time in the shoe department. I am an almost size five and I am pretty sure they order only one pair of shoes in a five, ever.
I have always been OK with it, saying 'well it was meant to be' and 'well I saved myself some money' until today.
S
unday was my birthday. My husband wanted to take me to get a new purse. I have not a new 'purse' in over ten years. Granted I have had lots of lovely diaper bags  but no purse. I never really had a desire for a new purse--my diaper bags did just fine. 
W
ell now that Spanky does not need diapers in public as much, I figured it was time for a purse. So we went to my very favorite mall and went to the Coach store. Nothing looked good. The signature 'logo' bags were cute but not me. I mentioned to our sales associate I wanted to pink. He showed me the most adorable bag, the Coach Patent Leather Ergo Satchel, in navy and then told me he could order me the bag in hot pink. I looked at the bag--it was beautiful--I especially loved the big brass snap at the top (which you sadly cannot see in this pic). It reminded me of an old fashioned hand bag. I was in love.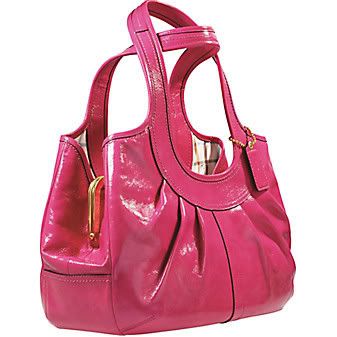 S
tephen, the sales associate, informed me the bag in hot pink had sold out in two days but he could order one from the store and I'd have it in my pretty hands by Thursday. I was so thrilled I almost hugged him, really. I thanked him for making my birthday awesome as my husband went to the cashier to pay and set up delivery.
T
he next day Miley and I looked through the catalogue and drooled over my new bag. We talked about how cute and fun it was. I promised Miley she could use it when she was older. She beemed, like me.
T
hen the the phone rang this morning. It was Stephen. I was expecting to hear the purse was shipped to the store by mistake and would I mind coming in to get it (no problem I'd be there is twenty minutes!) but I didn't.
"
W
e're sorry Lisa," he paused. "It's completely sold out everywhere."
I
gulped back an unexpected sob. "OK."
"
W
e'll have your card refunded tonight."
H
e did not even try to offer another bag. He knew my heart was broken.
I
hung up and began a frantic internet search. 
Mostly just a bunch of woman who got the purse and who loved it and felt like a princess with it and were buying the same style in new colors they loved it so much even though it did not compare to the pink.
M
y husband came out of his study. He saw my tear stained face. He called Stephen. He asked for help. Stephen told him new colors would be available the 23rd of next  month. I thought of a purple or green satchel for fall. Things began to look brighter. I programmed an alarm on my phone for the 21st of next month. 
I
smiled a little but I am still in mourning for my pink ergo satchel :(