T
wo brothers eating pasta with red sauce. One has never even needed a bib in his life; the other may want to consider eating his meals in bathtubs. Can you tell which is which?
Y
es. Dino is my neat freak. Has to change shirts if there is a chance of a spot. Always washes hands after going potty
without being told
. Makes every other kid in pre-school (including girls in pretty dresses with matching bows) look like slobs. Favorite phrase is 'nice and clean'.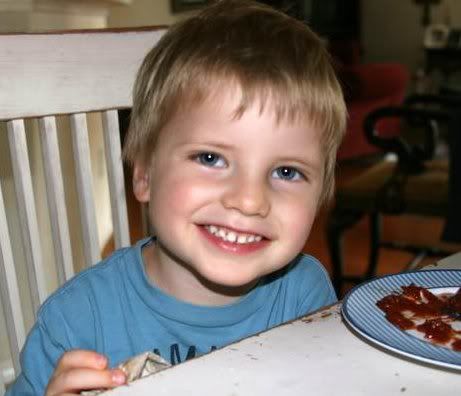 **Note the napkin in his hand--he does not like to eat without a napkin in the rare change he gets food on his fingers. Utensils are mandatory in his world.
A
nd now onto Spanky. Spanky takes after his older sister Miley (also a child that sees no point in changing out of favorite shirt simply because it is covered in this morning's breakfast). Sees no value in spending time to keep things clean when food (or mud or play dough or markers) is involved. Feels the messier it is, the more fun he is having. Takes baths daily, sometimes at the top of every hour (and yes, he splashes
everywhere
). Favorite phrase 'more'--a true gusto for life.
**Note this is not the only mess, the bench is
covered
too :)
They are going to need to separate rooms or one will not live to see high school graduation.