I
got to attend my first blogger meeting this weekend. I was excited and nervous at the same time.
T
o say I was nervous would be an understatement. I did not trust myself to chose an outfit so I asked my future fashion designer daughter what I should wear. After lots of 'no" "that doesn't work" and "maybe we should just go with black", she had pulled together a cute outfit and even let me borrow her butterfly hoops (because they worked better than anything I had lol). She did I great job--don't ya think? (So sorry about the quality--Had to crop out other siblings and I am still not sure how to fix it)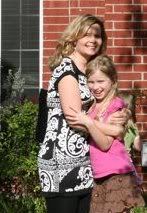 I
got an extra treat in that I drove with
Holly
in the infamous
minivan of death
--the car was actually quite cool--it had a rearview camera and was very comfy. I knew Holly before and it was fun to hear about all she was doing (like buying markers!) :)
T
he restaurant was a fun upscale Italian restaurant and was full of beautiful prom couples--some of the boys needed a hair cut and should have really seen a barber before their dates but I digress. Let me introduce our party!
Tx poppet
surprised everyone with homemade jam--yum! She's also a gardening queen. 
Elaine
is a sweet mom who has a really beautiful blog--and some really awesome giveaways. 
Holly
(mentioned above)  is a smarty, funny gal and her blog is just a riot!
W
e got a great table in the back and began discussing our various lives both on and off the computer. It was also rather quickly learned I knew nothing about blogging--so ladies be warned I may be emailing asking about tweeters, um, twitter (I think) and pretty blog templates.
I
even treated myself to two (!!!!) glasses of wine because 1. I wasn't driving and 2.
Spanky is no longer night nursing
wooo-hoooo! I was tempted to go for a third (really good pinot noir) but when I thought a girl in a red prom dress was a guy in drag
but
the person was
really truly a
she
(as my blogging buddies politely mentioned) , I figured I may want to stop ;)
T
he event was so much fun I didn't mind dealing with a sick Miley the next day who wanted to watch High School Musical Two again and again and again....