A typical meal at the Very Busy House
F
ood is served and it's a favorite--salmon with bok choy. Well,  everyone is happy but Sarah.
"I don't like it, "she wails.
We continue to eat and ignore her. Everyone else is enjoying the meal after all.
Suddenly there is a big tooting noise followed by a giggle. Sarah cannot longer be annoyed.
"That's ruuuuuuuude," screams Dino as he sets down his fork to fan away any nasty smells.
Miley giggles, "Gosh Sarah."
More giggles from Sarah as Spanky stands up points to her and says "ruuuuuude."
Dessert is brought to the table--apple pie. 
"I need water, " Miley suddenly stands up and sees Sarah licking her lips.
Now even though Sarah has her own piece, Miley declares, "Don't touch my food!" 
And she leans over and
licks
 over her pie.
"There," she mumbles and gets up.
"That is disgusting!" Dino screams again.
Spanky's eyes get big as he watches the whole thing unfold.
"Mommy, the 'gurls' are  gross," Dino looks at me for help from the manners fiasco (I swear he is teary eyed!) as he picks up his napkin and dabs his mouth even though he always eats so neatly, it's rare to see a crumb out of place.
Sarah pulls herself over Spanky and acts like she is going to eat the pie anyway (remember the girl has a full slice in front of her)  and Dino wonders what type of barn he is growing up in....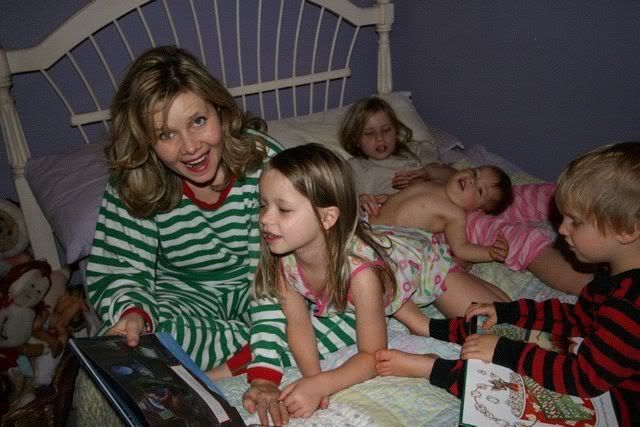 (Yes, I am in Christmas pjs reading some Christmas stories--it was a sort of cool night.) You know I love
Christmas
:)