I
t's true. I have four children and I have never had a baby nursery. With my first Miley, we had just gotten married, were in way over our heads and moved into a new home weeks before I gave birth. With my second, Sarah, we did a room for Miley. I knew after my time with Miley as a newborn that Sarah would spend almost no time in her own room and probably never sleep in a crib.
When we found out about Dino. I started to look into making a nursery but things kept coming up--Mike switching careers, Miley in kindergarden and me constantly throwing up. It didn't happen.
I always regretted it. I remember telling Mike at Christmas 2005 my one regret was not having a nursery. Lo and behold we found out about Spanky two weeks later. I begged and pleaded for a nursery. The back room was filled with book shelves, old computers and every other piece of junk imaginable. I did my best  but alas it was not enough and Spanky came home to a chest of drawers :(
So after my
successful painting of the back hall
, I am wanting to really put together a bedroom for the boys (yes, they have to share at this point). They have some nice bedroom furniture but there is still an entire wall of Elfa shelving and lots of Mike's old junk, uh, marine corp foot locker and kickboxing trophies. 
I've already bought the bedding on sale a while back. I got it when we first got the furniture. It's a surfer theme and now I am looking to put the room together like a normal parent does.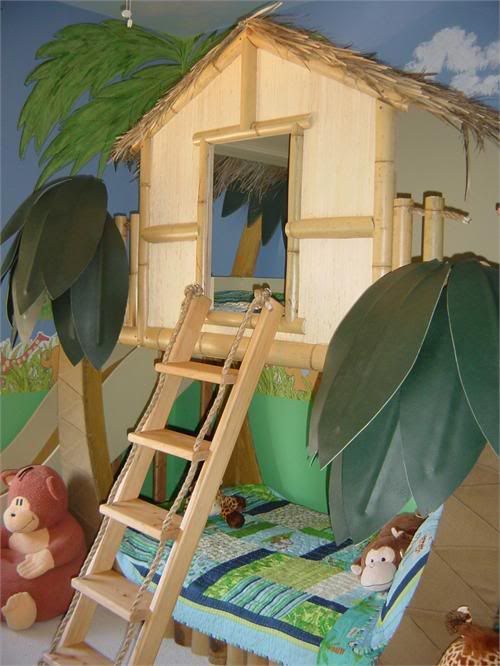 Quite possible the coolest thing for a boys' room ever and surprise surprise, the person who posted it makes these for a living. One problem, there no mention of prices on the
website
and well that is not a good sign.
So I found this: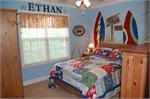 And I am really thinking I can do it, if my husband will agree to let go of some stuff and there's the problem. So honey, if you are reading this--can you please find it in your heart to find another place for your stuff 
like the attic. Remember I never ever got to do a nursery, ever.