This morning while nursing Spanky (yep, using
those new names
), I flipped on Rachel Ray and saw
Michael Buble
was on. I called in Dino because Dino loves Michael Buble. He even dressed as him for Halloween;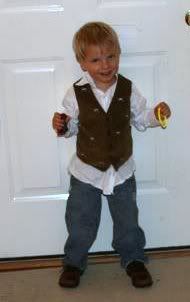 Michael Buble is like a super hero to him! So of course, he was glued to the TV when he found out. He smiled as Mike and Rach (yeah, they're old friends) chatted away and then it was time for him to sing. He sang Dino's absolute favorite song "Everything" (it's on my playlist to the right).  At first I just snapped my fingers to it; Dino followed suit and he began to sing. I decided to join and suddenly he put his hand over mouth and screamed "NO"--Dino rarely screams so when he does I listen.
I smile, "OK. Can I hum?"
"NO!"
So I just continued to bop to the song like he was and he turned around and said, "NO!"
"DON'T WATCH!"
I was dumbfounded. My sweet Dino never speaks in this tone.
Then Spanky joins in the 'la la la' chorus. Dino just turns, looks at him and smiles.
Now I know have a pretty crappy voice, as a matter a fact if I audtioned for American Idol, I KNOW I would get on TV because I'd have one of
those
auditions but to be so bad that my three year old son gets upset. Wow--
I must really suck
!