M
any, many times I see something I want, not need, want. It could be a picture frame, a new pair of shoes or, in today's case, a colorful spring jacket.
I keep off the impulse to buy the item by telling myself,
if it was meant to be, meant for me to own it, it will be there when I can afford it
. And if it wasn't meant to be, the item will be gone but I will find an even better use for my money.
Last month, I found the cutest spring jacket. It had just arrived at a nearby store and it was a-dor-a-ble! Bright pink, trendy, and I did need a new light jacket but....the price was too much. We did have the funds, but at a time when you can't turn on the TV without hearing the word 'recession', I could not justify spending that much on a jacket I'd get to wear two-three weeks out of the year. (Spring is very short here in Texas.)
This morning would have been the perfect day for that cute jacket--a little gloomy, a little chilly and a little rainy. As I was getting ready for my day,  Mike even commented 'too bad you didn't buy that jacket, it'd be good to wear today'. I nodded thinking the same thing.
I met a good friend for breakfast. She was with me when I found the jacket and out of the blue said 'this would be a great day for that jacket you liked'. I nodded and laughed as I mentioned Mike said the same thing.
After breakfast, we decided to do some window shopping and stumbled into the store that had The Jacket. I wondered back to the 60% off section and right between some pretty crisp button downs and tailored blazers was The Jacket. In my size. At half the price. I beamed, picked up the jacket and showed my friend.
"You have too!" she smiled.
I texted Mike.
He said, "YES!"
And I now own that jacket for a lot less than if I had not waited. A LOT less.
Because seriously, that jacket was meant to be,
on me
:)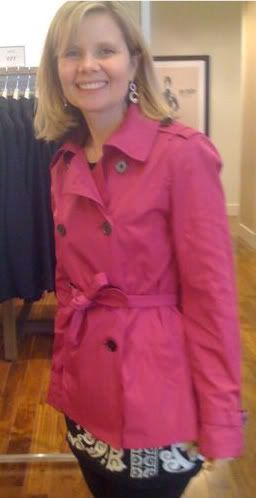 (On a side note, my friend had walked away from another darling jacket (her size was not available) at a neighboring store on the day I first walked away from mine. We stopped by that store after I bought my jacket and, surprise!, it was there, on sale and in her size!)
So my Thrifty Thursday advice, walk away from the wants. Wait and see if it was meant to be :)