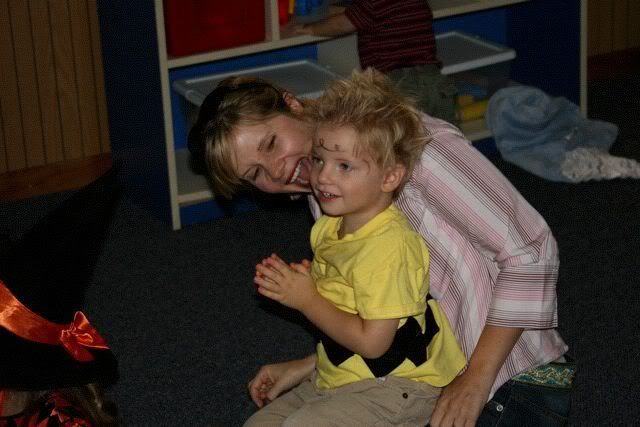 Dino has always been a fan of Peanuts, the Charlie Brown shows. I think he was originally drawn to the music. To this day, I can play 'Skating' or 'History Lesson' and he smiles. He knows exactly which show the song is from and when it was played.
Last Halloween, he decided to be Charlie Brown for school (he was Michael Buble for trick or treat). The other moms thought it was so cute he loved the show so much and raced home to buy their own DVDs to share with their little tikes. Good wholesome entertainment.
Well.....the other day it was raining. I decided to spend a few quality moments watching Dino's favorite show with him. Dino eagerly picked 'the snow one' (the Christmas special). I turned it on and started to feel sorry for Charlie from the opening credits. He received no cards and when he had the courage to confront a girl about not receiving a card, she totally dissed him. And then poor Charlie goes to see Lucy (you know the girl who yanks the football from him) and tells her he's depressed. Poor guy!

I'm sure you know the rest. He gets to be in charge of the play--the kids dance in a most unusual fashion, he decides to get a tree, the kids dance in a most unusual fashion, brings back a poor excuse of a tree and the kids laugh. The story of Christmas is revealed through Linus and Charlie gets his hopes back up, goes home and almost kills the tree and...you remember, right?
So it got me thinking back to the other Peanuts shows we have. Charlie goes trick-r-treating and gets only rocks (maybe this was why Dino insisted on being M Buble for this?), words like stupid and blockhead are thrown around (mainly to Charlie) like a common article adjective. I remember as a child not really caring for the show. I mean it was OK but who really found it funny?
I know who finds it funny. Out of the corner of my eye, I see Dino and Spanky laughing hysterically. Woodstock is caught in something--Snoopy is under the garage--absolute riot to my boys. I guess I'll let them watch it but the day they call me blockhead...